Thursday, April 17, 2014
6 Ways to get out the Door Faster
Submitted by Holy Names University Campus Ambassador, Dinah Romney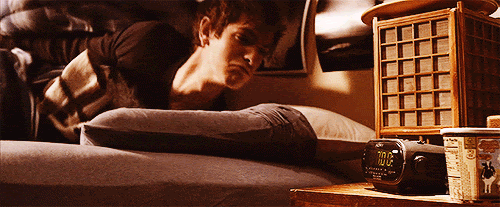 You hear that dreaded alarm clock go off for the third time before you decide to drag yourself out of bed…You rub your eyes and glance over at the clock…." OMG IT'S 

7:00

 ! " you yell before you run to the bathroom with only 15 minutes to get ready. 
( Sound familiar? )
This has happened to us WAY too many times. 
To help you avoid that mini heart attack when you realize you're going to be late, here are six ways to help you get out the door faster in the morning.
1. Make sure you are getting enough sleep
It is recommended that you receive 8 hours of sleep each night. We know this is tough for college students considering some people have to juggle being a full time student, having a full time job, and playing sports. Whatever the case may be, make it a personal goal to get close to eight hours of sleep each night. Try going to bed earlier if you know that you need to wake up early.
As a side note: Do not bring electronics into bed with you…
We know almost everyone has told themselves they were going to bed at 11, climbed into bed with their computer, watched a couple YouTube videos, browsed Twitter, and before they knew it, it was 
2:00 am
. 
Don't worry, it happens to the best of us. Studies have shown that using electronics right before bed, disrupt your sleep pattern therefore not allowing you to get enough sleep. Electronic devices in the bedroom serve as distractions and make it harder to sleep.  
2. Lay out what you need for tomorrow, the night before
This may sound a little silly, but having every thing set out the night before helps minimize the amount of time you would spend getting it in the morning. For example: check the weather for the next day and go ahead and pick out what you're going to wear. Gather what you need for class/work and have it all packed up and sitting by the door. This will save you ample time in the morning even if you still are running a little late.
3. Set your alarm clock far way from your bed
Using the alarm on your phone is very convenient but doesn't really help you at all. You are more prone to turn over and just hit snooze. Setting your alarm clock away from your bed requires you to get out of bed to turn off your alarm and you are less likely to hit snooze and get back into bed once you've gotten up.
Along with this, use an ACTUAL alarm clock that has that obnoxious standard alarm clock noise. Hearing this actually makes you want to get out of bed instead of having to hear it again when you hit snooze. 
4. Make your breakfast the night before / make it easy
We have all heard the speech about breakfast being the most important meal of the day, and honestly you can't really disagree with that. Skipping breakfast leaves you famished for the entire morning and part of the afternoon depending on what time you can catch a break to eat. Making your breakfast the night before (such as 
overnight oats
, 
breakfast sandwiches
, 
breakfast casserole
, and 
muffins
) helps save time while making sure you eat breakfast helps get your day started and get your metabolism going.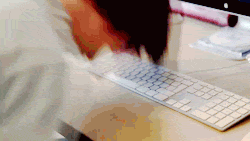 5. Avoid procrastination - use a planner
Everyone procrastinates, EVERYONE. Some are better at overcoming it than others. Most people wait to do their homework until the morning it's due, therefore making them late to class. Instead of procrastinating, keep a planner and stay organized. Write down everything you need to do for the day and cross them off as you go. Prioritize and make sure your homework is done prior to going to bed that night. Rushing to do your homework the morning of, reduces the quality of your work and will result in you being late. 
6. Above all…stay focused!
Being in college and having to juggle school, work, sports, and having a social life, things can get pretty hectic. Learn to prioritize what is most important to you and stay focused. 
Woke up late for class and didn't have time to get ready? An easy way to upgrade your bed head is to add
Towel Dry
to your hair! A fresh hair-do without the rush. 
Tuesday, April 15, 2014
Easter Surprise!
Staying true to our motto, "everyone deserves a better care package," Co-Ed Supply has done it yet again! From April 15th-April 30th, Co-Ed Supply is giving students across the country a chance to #CRACKTHECODE and get amazing discounts on a May care package filled with goodies to get you through finals and celebrate summer!
At 22 schools across the US, Co-Ed Supply is hand-delivering orange Easter Eggs filled with unique discount codes. Participating schools are below! Is your school not on the list? Never fear! You can still get a discount code of your own at coedsupply.com/crackthecode!
Bentley University
Clemson University
Cornell University
Georgia State University
Holy Names University
Kent State University
Longwood University
Miami University
Middlebury College
Northern Kentucky University
Northwestern Michigan College
Providence College
Rhode Island College
Tufts University
UC - Berkeley
UC - Davis
UC - Santa Cruz
University of Cincinnati
University of Florida
University of Hawaii
University of Northern Colorado
Xavier University